Our current plan is from 2022 to sail around the world within 2 years or 3 years, as described in the Plan. The following cruises correspond to the first routes from Denmark to Panama.
We are not quite ready yet, but if you are interested in joining us as crew in one or more of these cruises then CONTACT us and tell us which cruises you are interested in, as well as a little about yourself and your sailing experience. Also check the menu items Crew and About Us , so you can learn about what we expect and who we are. Under each cruise description you can see if there are any crew opportunities. You are only guaranteed a position as a crew memoer when you have a signed Seafarers Contract and paid the required deposit.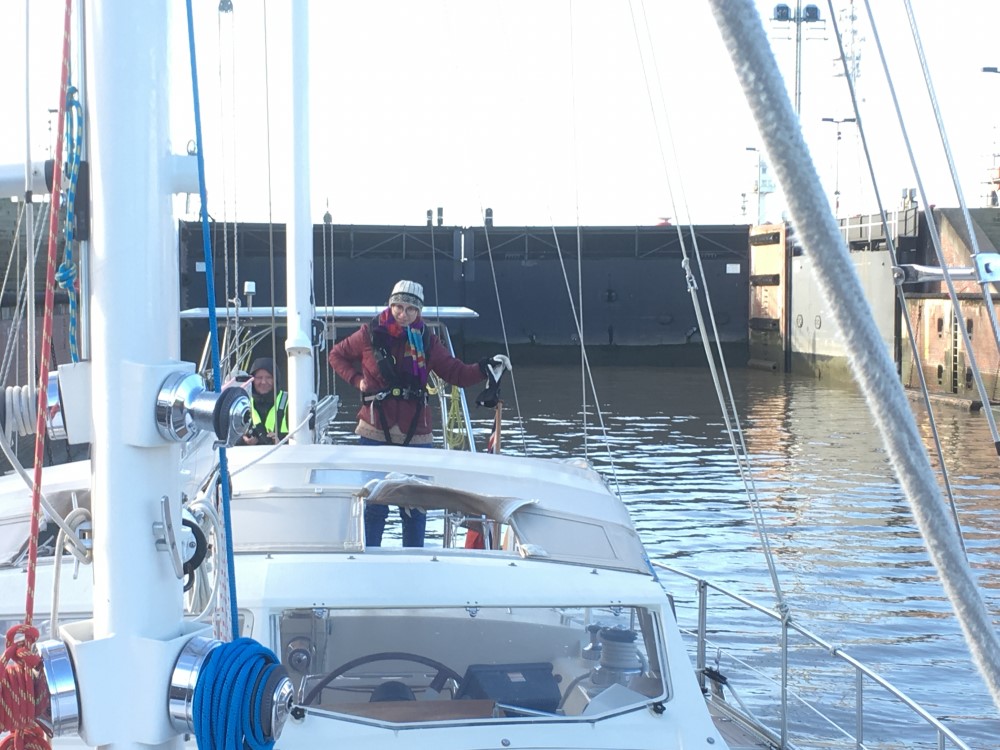 The following describes the individual cruises and the planned route displayed on Google Maps. Of course, these cruises are liable to changes in both start and destination ports, however we will try to keep the times schedule as best possible.
In Google Maps, you can zoom in and out to see the detailed route plan. The route is transferred directly from routes in our electronic nautical maps.
Cruise 1
3/7/2022-29/7/2022
From Vallensbæk to Amsterdam and the dutch waterways (the standing mast route)
We sail from Vallensbæk 5/7 at 09:53 down through Fehmarn sound and through the Kieler Canal to Cuxhaven. We sail from Cuxhaven with a good weather forecast for the trip to Holland, where we sail via the IJsselmeer to Amsterdam. Then we take the standing mast route and experience some of Holland's many canals and their peculiarities. We sail into the North Sea again at Vlissingen, close to Zeebrügge and on to Boulongne-sur-Mer.
Crew positions: We are not ready yet
Crew list: ..
Cruise 2
31/7/2022-2/9/2022
Guernsey – the Biscay – the coast of death and the Galician fjords
We sail with a fine weather window from Boulogne-sur-Mer and time the sail through the Alderney-race to the English Channel island of Guernsey. After Guernsey we sail a good stretch to Cameret-sur-Mer and/or Brest. Here we await a suitable weather window for crossing the Bay of Biscay to La Coruna in Spain. When we have recovered from the crossing we enjoy life in the Galician fjords-the so-called Rias and when September approaches, we set the course towards Cascais, right on the outskirts of Lisabon.
Crew positions: We are not ready yet
Crew list: ..
Cruise 3
4/9/2022-1/10/2022
From Lisabon to Madeira and Gran Canaria
From Cascais we sail either directly to Madeira (four to five days) or we sail first to Lagos in southern Portugal. In Madeira, we first enter the island of Porto Santo and then sail on to the main island of Madeira. When we are finished with Madeira we sail to Las Palmas in Gran Canaria, it probably takes three days.
Crew positions: We are not ready yet
Crew list: ..
Cruise 4
2/10/2022-22/10/2022
A cruise around the Canarie islands
From Las Palmas we sail to the southern end of Gran Canaria where we visit Puerto de Mogán. From here, we sail to the island of Gomera, where we stay overnight in an anchor bay. We sail around the small island of Gomera and enjoy the view of the beautiful island and anchor for lunch. Then, again, we stay overnight in the same anchor bay before heading for the island of La Palma, where we will visit Santa Cruz de la Palma. From here, the cruise goes back via Tenerife, where we will stay over night in Santa Cruz de Tenerife. Finally, the tour ends again in Puerto de Mogán. Where we say goodbye to the old crew and hello to the new.
Crew positions: We are not ready yet
Crew list: ..
Cruise 5
30/10/2022-16/12/2022
Atlantic cruise from Gran Canaria to Cap Verde and to Barbados in the Caribbean
This great Atlantic cruise starts with a sail further south to Cap Verde, where the butter melts. Here we stay for about 7 days in Palmeira on the island of Sal. We have now earned a 4-5 days of relaxsation and we enjoy life at anchor. From Palmeira we sail on to Mindello on the island of Ilha del Sao Vincente. Mindello is the capital and has great shopping opportunities for the big stretch across the Atlantic. We cast off in the last half of November and arrive in Barbados early December. Once we have relaxed a little we sail on to the Grenadines and enjoy some nice anchorages before the cruise ends in Grenada.
Crew positions: We are not ready yet
Crew list: ..
Cruise 6
17/12/2022-14/1/2023
Grenada to the Lesser Antilles, then to Columbia and onward to Panama
On this cruise we sail in a good arch north of eastern part of Venezuela to the ABC Islands also called the Lesser Antilles. Here we visit Kralendijk in Bonair and celebrate Christmas. From here we sail on to Spanish Waters on the island of Curacao and perhaps to Oranjestad in Aruba. From these small ABC islands with Dutch affiliation, we sail to Santa Maria and Cartagena in Columbia. From here, we sail to Panama, where we'll land in Lindon Bay Marina to get a Cruising pass to San Blas. From Lindon Bay we take the bus to Portobello to get tourist visa for Panama. From Lindon Bay we then sail backwards 45 miles (perhaps using the engine sailing against the wind). Hopefully we will meet the local inhabitants who sail around in carved logs and sell woven fabrics in beautiful patterns. Finally, we sail to Shelter Bay at the entrance to the Panama Canal. During this cruise we will see strenthening trade winds as we progress further west into the Caribbean Sea. This means the wind freshens and that the wave hight and length increases. But fortunately it's the trade wind so both wind and the sea will mostly be with us.
Crew positions: We are not ready yet
Crew list: ..