Rhumb Runner
The name of the sailing yacht is Rhumb Runner and this basically means compas-course runner in layman terms. In English, a "Rhumb line" is the same as a course line and such a course line is used if you are constantly heading in a given course direction, for example a heading of 280. On a world globus, such a WNW heading line will correspond to a spiral line that spirales towards the North Pole. A Rhumb line (straight line) that is set out in a nautical chart is not the quickest route between two points, but a great circle route will be. However the influence is small when sailing with the trade winds arround equator.
French boat type
The ship is a Super Maramu 2000 from the French shipyard Chantier AMEL. The hull is 53 feet long, corresponding to 16 m, has a beam (width) of 4.60 m and a draft (depth) of approx. 2.10 m. The ship's deck and interior is fantastically illustrated by the eksplodered drawing prepared by the AMEL shipyard.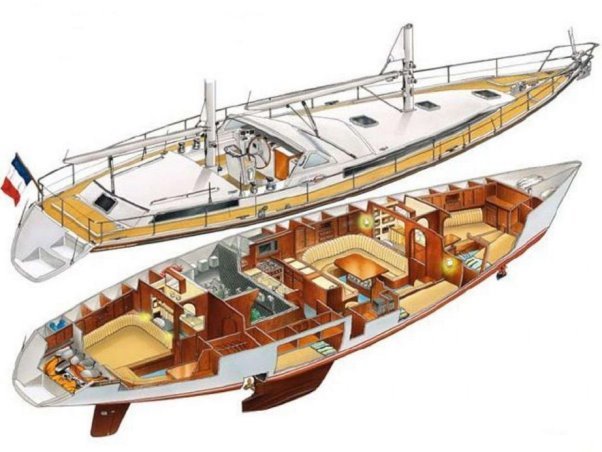 A ketch
Rhumb Runner is a ketch, since the lower mizzen mast, as seen in the drawings, is located in front of the rudder. The main mast is rigged with a mast head genoa. The ships hull is built in fiberglass reinforced polyester and has balsa wood as sandwich material in the deck. The deck and lower hull are assembled by fiberglassing the connection and the hull is thus very rigid and can be considered a monolithic shell. The ship has fin keel with a ballast-wing of iron and a rudder mounted on a strong skeg. The skeg protects the rudder while providing a steady heading through the water, which is nice when you sailing long distance, but of course it gives a little less manoeuvrability in port and narrow anchorages. However, the ship has an effective bowthruster which can be lowered when needed. The ship is equipped with a 100HK Yanmar diesel engine and a C drive.
Layout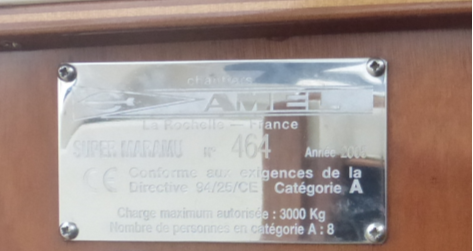 In Rhumb Runner there are 7 fixed bunks. The ship is CE-marked and classified for Ocean sailing, category A, with up to 8 persons on board and with a maximum payload of 3 tons. The ship has forward and aft cabin, as well as a large saloon with a navigation space, U-kitchen and U-sofa with a fixed table. There are two heads (toilets) with a shower located in connection with the forward and aft cabins. There are handrails everywhere, so that you can brace yourself at sea. The ship has a well protected central cockpit with a small hardtop and a forward placed helm. The coclpit is located in front of the mizzen mast.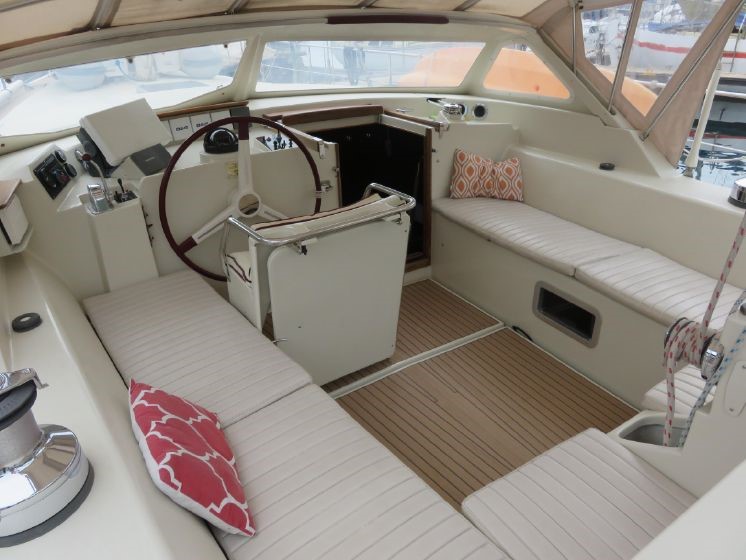 The ship's anchor well and aft locker have waterproof bulkheads. In addition, the engine compartment is waterproof with an access hatch in the cockpit. The ship's diesel tank is placed slightly to starboard in the engine compartment. Fore and aft cabin also have watertight bulkheads, if doors and pipe valves are closed. For electrical power generation there is a separate diesel engine/generator, which is also located in the engine compartment. At the stern there is stainless steel gantry carrying solar panels and with the possibility of hanging the RIB – an inflatable dingy with a hard bottom and 8 hp outboard engine. As mentioned, at the bow there is an electric bow thruster, which can be lowered. Main sail and genua are furled sails which can be operated electrically and in case of malfunction also manually. The Mizzen sail is operated manually from the cockpit. A ketch has relatively low positioned sail centre compared to similar Bermuda rigged sailing yachts, making the ship more stable.
Specification
| | | | |
| --- | --- | --- | --- |
| Shipyard: | AMEL Chan Tier, France | Type: | Super Maramu 2000 |
| Design: | Henry Amel & J. Carteau | Hull, Series No.: | 464, FRAMLSM464J405 |
| Year | 2005 | CE Category: | A – Ocean, 8 pers, 3000kg |
| Hull type: | Mono hull | Rig: | Masthead, ketch |
| Keel: | Fin keel with wing | Rudder type: | Rudder on skeg |
| Keel material | Iron | Hull material | Glass fiber reinforced polyester |
| Cockpit: | Central cockpit | Helm: | Steering wheel (cable) |
| Master & Bomme: | Aluminum, white painted | Maste Location: | Deck stepped mast |
Characteristics data
| | | | |
| --- | --- | --- | --- |
| Length Over All (LOA): | 15.86 m | Length of Waterline (LWL) | 12.50 m |
| Beam (Width) | 4.60 m | Beam at Waterline (BWL) | 4.10 m |
| Depth (DM) | 2.07 m | Waterline Area (AWL) | 35 m2 |
| Weight (LW) | 14440 kg | Deadweight (D. W) | 3000 kg |
| Displacement | 17440 kg | Ballast/Keel weight | 5500 kg |
| Mast height | 20.2 m | Engine | YANMAR 100 HK |
| Fuel Tank | 600 LTR | Water tank | 1000 LTR |
| Hull speed | 8.62 kts | Speed at 2000 RPM | 6.4 kts |
| Genua/Head sail | 71 m2 | Ballooner Sail | 68 m2 |
| Main sail | 35 m2 | Fok/staysail | 20 m2 |
| Mizzen sail | 19 m2 | Mizzen-Staysail | 35 m2 |
| Headroom | 2 m | Number of bunks | 7 |
| Toilet/bath Room | 2 pcs | Watermaker | 50 Ltr/h |
| Holdingtank | 2×40 LTR | Stove fuel | Gas |
| BT = Gross Tonnage | 21.4 | NT = Net Tonnage | 6.4 |
| Anchor chain length | 100 m | Anchor | 45 kg (Rockna) |
Polar diagram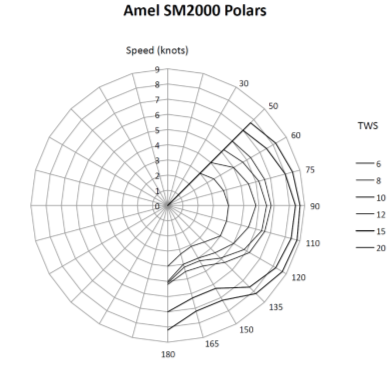 There are some Super Maramu 2000 skippers who have prepared a polar diagram which expresses the sailing speed (in knots) as a function of the true wind speed (in knots) and the true wind angle. The Polar diagram is reproduced here.