Dear everyone
It sounds like life goes on in the shire and we enjoy following birthdays, the first day of school, football matches, digging holes in gardens etc. Skipper Jeppe has decided to sail RR down along the Spanish and Portuguese coasts. These waters are also the killer whales' home turf, (ed. see https://www.orcaiberica.org/last-interactions and https://www.theca.org.uk/orcas/reports.) We hear almost daily about interactions between killer whales and sailboats. The rescue service and researchers are collaborating to investigate the cause of this behaviour which started in 2020. It is recommended that you do not sail out at night, as the interactions take place both night and day. Now it seems that the killer whales are to the north of us. Since we left A Coruña, we have set the course as close to land as possible in the hope that reefs and fishing nets can protect against the large animals. On the other hand, it requires a constant lookout, which is difficult with the fog that has been lying along the coast of Spain for several days. We sail with the radar on. We have virtually no wind and sail using the engine. We try to sound like a fishing vessel, as the whales are not interested in these ships.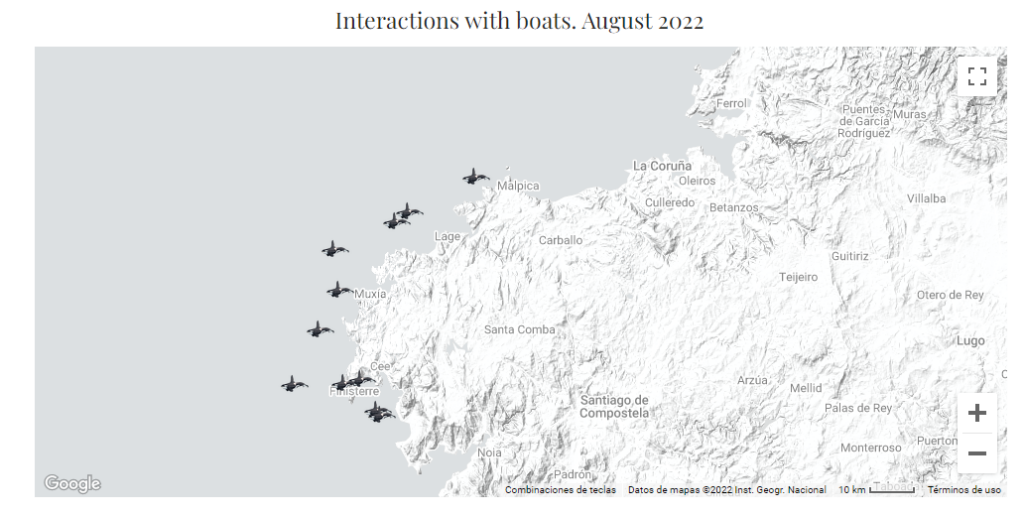 There is an unpleasant low pressure system between Madeira and Portugal, which makes it unattractive to simply sail directly to Madeira. For the last two nights we have been at anchor partly off Camariñas and yesterday off Muros. The fog lifts completely when you sail very close to land in the bays and the sight that meets you is magnificent. High slopes covered with forest. Towns with pretty houses. Many wind turbines can be seen on top of the slopes.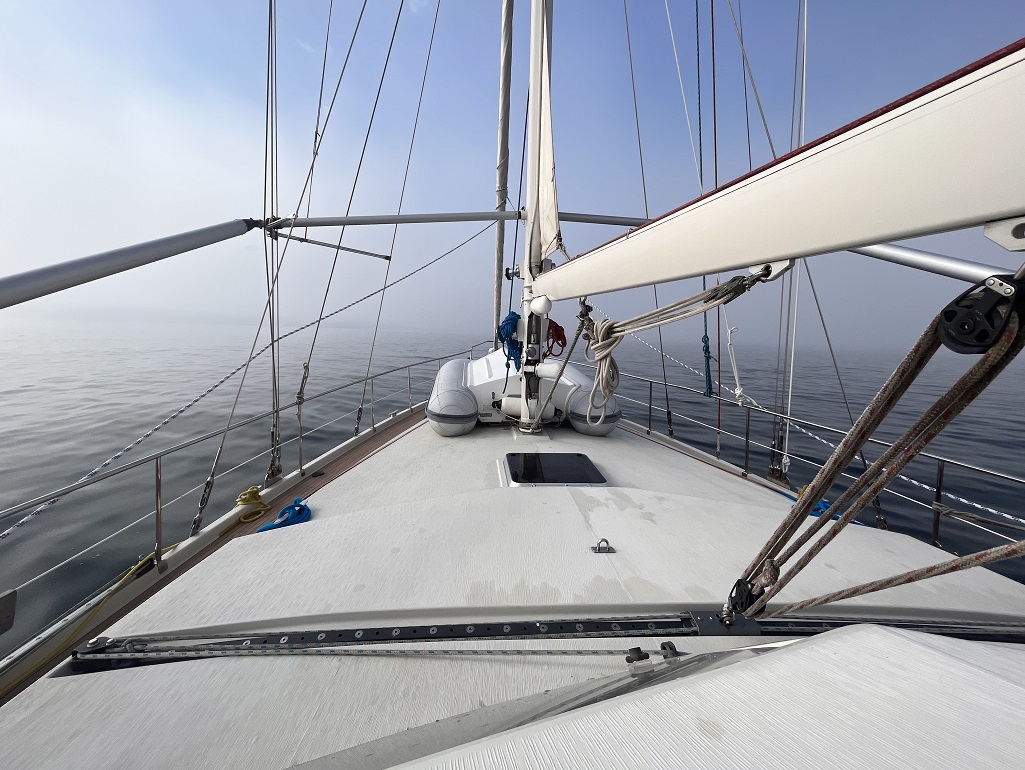 The first time we had to anchor, the anchor chain got stuck all the time. What do we do? I was just about to get angry at dear RR who has otherwise behaved so nicely in the last weeks. It turned out that the chain has been rattling around down in the chain locker during our bouncy sails, so the chain had become jammed. While we were lying and circling around, Jeppe had to pull 40 m of chain out of the chain locker by hand, after which we could lower the anchor and chain without any problems. Mette has inflated the paddle board and enjoys the evening hours sewing teddy bears, among other things.
Best wishes
Kirsten