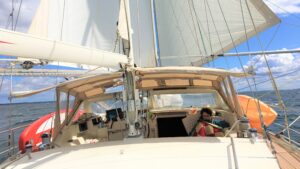 In the spring of 2020, we were ready to sail towards the Caribbean, but we decided to postpone the long trip until 2022 in anticipation of the world being able to cope with Covid19. Instead, we had a very non stressful and lovely family summer holiday in Denmark. We had the trio (Mette's girlfriends) with us for the first 4 days and later the Jonsson League joined us on board in turn.
The summer holidays with family is always cozy and as you can see in the video below we really enjoyed it. We forgot all about where we should have been sailing. Overall the trip went from Vallensbæk and southwards around Stevn's cliff and Møn's cliff, with a de-tour to Præstø, through Grønsund and further through the Storstrøm and up around both Agersø and Langeland. Then south to the archipelago of southern Denmark through Svendborg sound, followed by a trip to Ærøskøbing and then a sail around Als and back again. The video has been prepared in Danish for family and friends. We hope that you enjoy the pictures and small video clips any-way. – Give u's a Like at the bottom of the page if you like the video. –
You can see the routes in the map below and click on the individual short stretches that also show a few pictures.